HAIKUS IN BLACK & WHITE
Black and White Haikus were created as digital art pieces that illustrate my original haikus with only text as the visual medium.
The text at the bottom is meant to "caption" each, so that the seventeen syllable form can be even more clearly understood.
Check out our Defective Design shop and get one of these for yourself.
Haiku One:
"Life is one big endless gray area.
Black letters stand brave despite."
Haiku Two:
"If I could see everything better,
rocks would sing
and poems would roll free."
Haiku Three:
"Evolution: Animal stripes
or color of one leaf – which came first?"
I purposely used the limitations of black and white to further illustrate the simplicity of the haiku to the viewer. Choice of text styles became part of the message of each piece. Having the freedom to distort the text offered me the opportunity to communicate the idea more visually.
Text Architecture 2


Haikus in Black & White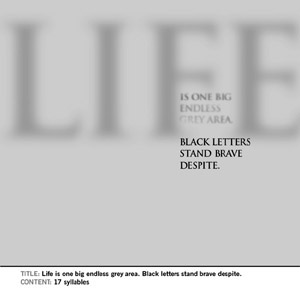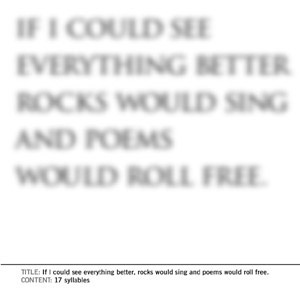 Since 1987, Clare Ultimo Inc. has been on the forefront of graphic design, corporate communication, and branding, as an award winning Graphic Design Studio located in New York City.
©2021 Clare Ultimo Inc. All rights reserved.
Site powered by Phoenix Rizin