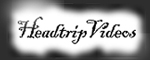 "HeadTrip Videos" are a way I could convey thoughts without speaking them on camera. They allowed me to write, perform and edit, while bringing humor to topics I like to explore – metaphysics and perception.
I conceived this video series during my MFA/IMA in Integrated Media at Hunter College.
1. HeadTrip Videos
INNER DIALOGUE (2004)

Permanent Collection in the Casoria Museum of Contemporary Art in Naples, Italy.

ARTIST? 3 QUESTIONS (2006)

CLICK TO SEE OTHER MEDIA

I SEE SOMETHING BUT I CAN'T SAY ANYTHING (2007)
2. A Place To Work

A PLACE TO WORK (2003) 5:09

Early experimental video about the history of all my studio spaces in New York City from 1989 until 2003.
3. Performance Videos from "Verbs On Asphalt"
I edited and produced the videos found on the "Verbs On Asphalt" website, with archival footage taken by Tom Poole and Herb Brooks. Please see www.verbsonasphalt.com for additional video.